USA Clean Master
Hours: Mon-Sun 8:00am - 8:00pm
Silver Spring, MD 20902
Type of Service Requested
Professional Carpet Cleaning
USA Clean Master's Silver Spring branch brings professional carpet cleaning to residential and commercial customers in Silver Spring as well as in the neighboring areas of Takoma Park, Bethesda, Chevy Chase, and Washington, D.C. Though our carpet cleaning costs a little more than trying to do it yourself, in the end you get a lot more for your money.
There are certain risks involved in DIY carpet cleaning. There is always a chance that you may unintentionally damage your carpet with too much water and cleaning solution, due to the lack of experience. This can lead to over-wetting and subsequent mold and mildew growth. Even just extra detergent residue probably can attract soil and your carpet will get dirty faster.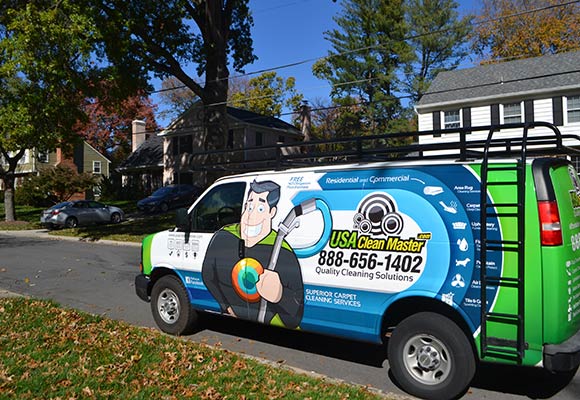 The Benefits of Experience
We have the winning combination of factors necessary for great carpet cleaning, and it all begins with experience.
Experience means that our carpet cleaners ...:
... are experts in stain removal techniques, from identifying stains to treating them.
... know what cleaning can accomplish in addition to what it can't, and are able to choose the cleaning method that will provide the best carpet cleaning results possible.
... know how to combine cleaning processes for optimal effectiveness.
... use tried and tested green cleaning carpet cleansers, hypoallergenic, so as not to trigger allergies or asthma, and biodegradable, to be easy on the environment.
Carpet Steam Cleaning
Coupled with our professional cleaning equipment, like truck mounted extractors, USA Clean Master's Silver Spring, MD team is head and shoulders above the competition when it comes to cleaning carpets. Our primary cleaning method is carpet steam cleaning, also called hot water extraction, because it is proven to do a better job. That is why leading carpet manufacturers recommend only the steam cleaning method to maintain their products. Steam cleaning removes dust, dust mites, dirt, dander, bacteria, mold, and other contaminants from the carpet's fibers, for a cleaner and healthier home.
USA Clean Master in Silver Spring has the one phone number you need to satisfy all your cleaning needs. We offer carpet cleaning, upholstery cleaning, area rug cleaning, air duct cleaning, dryer vent cleaning, hardwood floor refinishing, water damage restoration services, and much more. As always, your satisfaction is guaranteed, 100%. Call today for your free phone estimate and to hear about our current special offers.
Call 301-328-8820 and schedule your free on-site inspection!