USA Clean Master
Hours: Mon-Sun 8:00am - 8:00pm
6917 Arlington Rd, Bethesda, MD 20814
Type of Service Requested
Proper Carpet Cleaning with National Quality Standards
The traffic jams around the Beltway are notorious for making mincemeat of schedules. That's why you have the USA Clean Master local branch right here in Bethesda. This is our main office in suburban Maryland, bringing our exceptional cleaning services to Bethesda and other nearby Montgomery County communities, including Wheaten-Glenmont, Aspen Hill, North Potomac, and Gaithersburg.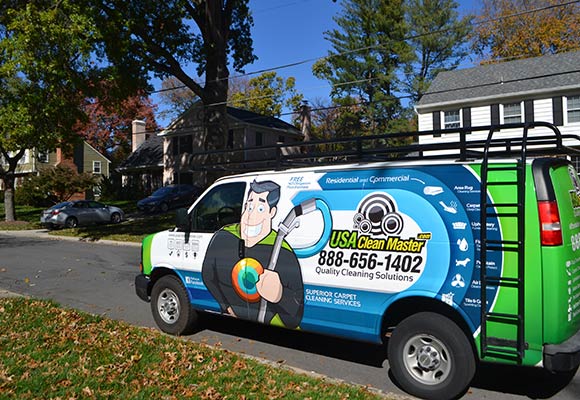 Residential Carpet Cleaning
Professional carpet cleaning is number one on the list of regular home maintenance chores. With experienced cleaning technicians in the Bethesda area, we offer top-notch services to restore the appearance and the beauty of your home. It is easy to schedule your carpet cleaning appointment at your convenience. We clean carpets every day, as well as on weekends.
We offer a variety of carpet cleaning techniques, starting with our signature service, steam carpet cleaning.
Steam cleaning is our preferred carpet cleaning method, because it is required by leading carpet manufacturers in order to maintain the carpet's warranty. Our powerful carpet cleaning equipment propels hot water into the carpet and then vacuums it out immediately, taking the dirt it washed out along with the water. This leaves your carpet clean from top to bottom.
When our experts know that steam cleaning won't give you the stellar results that USA Clean Master is known for, we recommend deep cleaning, a more intensive treatment. If getting the carpet wet is a concern due to the material, we also offer carpet dry cleaning.
Stain removal is a specialty of our Bethesda branch, with a particular emphasis on pet stains and odors. Now you can have pets and great looking carpets, too!
Carpet Cleaning for Commercial Needs
When you own a business or a commercial property, you may spend just as many hours there as you do at home. A clean carpet not only increases morale for employees and makes a good impression on customers, but is also critical for maintaining good indoor air quality. For your health and for the health of your employees, we offer commercial carpet cleaning, with dry cleaning options for cleaning without the downtime. Call our office for more details about our commercial cleaning packages.
Benefits of Choosing USA Clean Master in Bethesda
Convenient scheduling, with same day appointments available
Local knowledge of the community
Trustworthy, experienced technicians
Worry-free carpet cleaning, fully licensed and insured
100% satisfaction guarantee.
Green cleaning for your health and safety, using safe and environmentally friendly cleaning solvents and solutions
A menu of professional cleaning services, including upholstery cleaning, rug cleaning both onsite and at our in-plant facility, and specialty services for hard flooring as well, like tile and grout cleaning and hardwood floor refinishing.