Top-Notch Upholstery Cleaning Methods in Miami
Miami Deep Upholstery Cleaning
Regular vacuuming and dusting might remove dirt from the surface, but to clear dust from inside, you need deep cleaning techniques. Our experts use high-quality detergents to remove dust and dirt from each layer of your furniture. Each spot and stain is treated, making sure that no mark is left behind. Whether your couches are full of wine spots or coffee stains, our team will remove them in one go with the best possible outcome. You won't find a better upholstery cleaning company in Miami than USA Clean Master.
Miami Steam Upholstery Cleaning
Using the steam cleaning method helps couches and chairs to be free of germs and dirt in no time. Hot water is propelled through the upholstery fibers and cleans off hidden filth. Most importantly, it kills any germs living within your couch or sofa instantaneously. Through furniture steam cleaning in Miami, your furniture remains protected and doesn't lose its smooth texture during the cleaning process. Clients do not have to worry about the equipment because our team brings everything with them.
Special Treatment for Leather
If you own a leather sofa or leather dining chairs, you must be well aware of how costly they can be. However, they require special maintenance. Keeping a leather chair clean can seem like an easy thing but never forget, different types of leather have different requirements. For this very reason, our company uses dedicated treatment options for leather furniture. We start with vacuuming to remove extra dirt and dust. After vacuuming, we focus on identifying the type of leather and use appropriate solutions for deep cleansing. Leather isn't as absorbent as other materials. To maintain its softness, we use special conditioners and moisturizers. The conditioner makes the leather soft and smooth.
Green and Safe Upholstery Cleaning Solutions
Furniture cleaning in Miami has never been this easy. All you need to do is book an appointment, and our team will contact you as soon as possible. Moreover, if you fear whether these methods are safe or not, then do not worry. We use green upholstery cleaning methods. All of our cleaning solutions are a hundred percent safe and nontoxic. They cause no harm to the atmosphere, indoor air and the people around them. Our eco-friendly cleansers are gentle.
Why Should You Hire Professionals Like Us in Miami?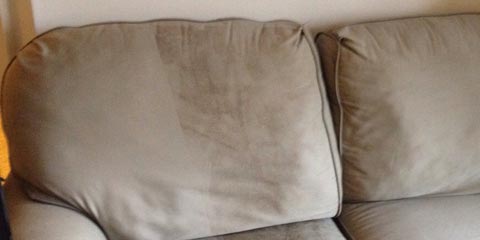 To clean upholstery in the best manner, you need professional aid. Whether your home couch is dirty or your corporate furniture is out of shape, professional cleaners can fix both issues. USA Clean Master handles commercial and residential furniture like no one else. Our experienced specialists remove hidden dirt and make sure that no corner is left untouched. No matter how much effort you put in, you can't clean your furniture like a trained technician. With time, you waste your money, and there is a high possibility that you might ruin the color and texture of your couch or dining chair. So to remain on the safe side, hire furniture cleaners such as us. With services by experienced techs, your upholstery can be:
Clean and free of dust
Good as new
Stain-free
Odor-free
Used for a longer duration
Free of allergens, germs and harmful bacteria
So, do not waste your energy on DIY methods. Hire experienced people from your area to handle your expensive upholstery.
Free Price Estimates for Upholstery Cleaning in the Miami Area
We offer our residential and commercial customers flexible scheduling and can even come on the same day if our team is nearby your house or office. Call us at 786-685-3959 or just fill out our quick form and get a FREE estimate for furniture cleaning. We can deal with cleaning for fabric and leather sofas, couches, recliners, living room seating collections, reception seating, executive chairs, armchairs and more. Just call and book an appointment.