USA Clean Master is proud to offer professional cleaning to residents and business owners in Encino and the beautiful San Fernando Valley. Our Encino branch offers the high quality carpet cleaning services that our customers expect from USA Clean Master.
Quality carpet cleaning arises from experienced carpet cleaners who have the knowledge and experience to use top of the line cleaning equipment safely and correctly for the best cleaning results in the industry. And it is not just how, but when to use a particular carpet cleaning method that makes the difference. It is the difference between recognizing when a carpet really needs to be deep cleaned versus recommending deep cleaning for every carpet, whether it is needed or not. USA Clean Master will recommend the services you need, and only the services you need, for your carpet, from a regular steam cleaning to the best in carpet dry cleaning services.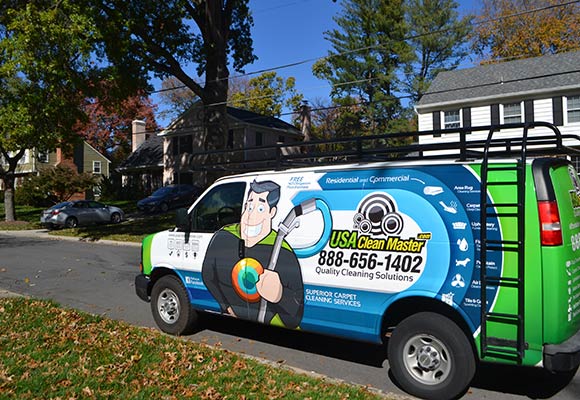 Clean Away Visible Dirt and Carpet Stains
Carpet can be the perfect neutral backdrop for a room or be the center of attention in full, vibrant color. When carpet looks stained, dull and lifeless, it can be hard to notice the rest of the room. Carpet cleaning not only restores the carpet's appearance, lightening and brightening the color as the dirt is washed away, but it also allows targeted, specific treatment of all kinds of stains. From streaky traffic lanes to pet stains, red wine, and other spills, USA Clean Master has the stain-fighting supplies to go right to the stain's source, breaking it down completely.
Remove Invisible Health Hazards
Carpet acts as a filter, hiding invisible dirt and allergenic particles beneath the surface. Dust mites live in carpeting, subsisting on the dander from pets and the skin flakes people shed every day. Add in pollen and dirt that sifted down from the surface of the carpet, and carpet can contain a cocktail of substances to trigger allergies and dangerous asthma attacks.
Carpet steam cleaning is the number one way to safely and effectively remove built up deposits of these contaminants from deep inside carpeting. The super-hot water does the best job of cleaning, while a powerful vacuum sucks away the dirt and moisture.
Call 818-614-3141 today for your free phone estimate or to schedule an appointment. We are always happy to answer your questions.
Easy and Convenient
USA Clean Master's team in Encino is available every day of the week, even on weekends, serving customers throughout Los Angeles County. So whenever your home or business needs cleaning, for big jobs or small jobs, USA Clean Master has the services you need, like carpet cleaning, upholstery cleaning, tile and grout cleaning, air duct and dryer vent cleaning, mattress cleaning, and fire/water damage restoration services.