How We Clean Your Upholstered Couches: Process
Our upholstery cleaning company in Boston, Massachusetts, provides you with all the facilities. Once you book an appointment, our team reaches your location with all the required cleaning supplies. They also bring vacuums and other equipment, so you don't have to arrange anything.
Our typical process for upholstery cleaning includes several steps, as required by the condition of the upholstery.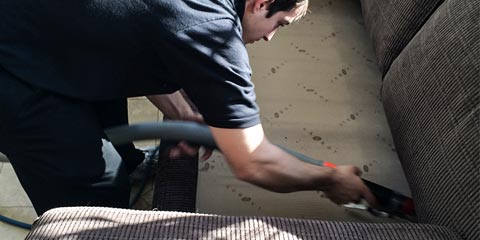 Inspecting the Upholstery:

All the items that need to be cleaned are thoroughly inspected. The number of stains and the damage is checked before starting.

Color Test:

After completing the inspection, our cleaners perform color tests. It saves your upholstery from damage and loss of color.

Treating Heavy Stains:

If your furniture is covered with big stains, the cleaners will treat them beforehand. This step is important for a better finish.

Washing and Cleaning:

All the items are cleaned using either steam couch cleaning or deep cleaning methods. For this step, various shampoos and liquid cleaners are utilized. Each one of these is safe to use. After a few minutes, the upholstery is washed and left to dry.
Our experts do not only wash your expensive furniture but also guide you on various matters, such as how long it will take for the items to dry and when to book the next appointment. Most of the time, it takes a couple of hours for all the furniture items to completely dry. In addition to these steps, our cleaners can deodorize and sanitize the upholstery as well.
Why Choose Us for Couch and Furniture Cleaning in Boston, MA?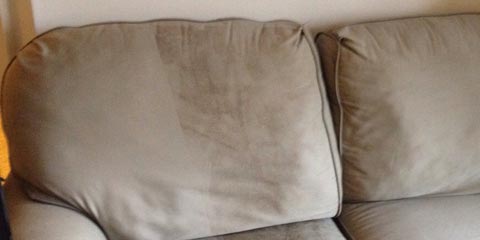 Selecting our upholstery cleaning services in Boston, Massachusetts, is a wise choice for every household owner. Cleaning all the furniture yourself isn't an easy task. There is a high possibility that you might ruin your expensive items or make them worse than before. Therefore, our cleaning company gives you the best deals for all kinds of tasks. Once you select us, you get:
Cleaning Services for All Kinds of Upholstery
Along with couches, we also clean dining chairs, sofa sets, and armchairs. Instead of booking different people, you can get all the services from one place.
Eco-Friendly Upholstery Cleaning Supplies
For us, using green cleaning supplies matters a lot. We make sure to use eco-friendly cleaning supplies to protect the environment. So, we use non-toxic and harmless chemicals for cleaning purposes. Each item causes no harm to its surrounding.
Trained Staff
Our staff is trained with upgraded tools and methods, which makes them eligible for every kind of job, whether big or small. They are fully certified to handle all kinds of couch upholstery cleaning jobs. So, don't be afraid. Your furniture is safe in their hands.
Years of Experience in the Cleaning Industry
USA Clean Master has provided services for years. All of our team members are skilled professionals who have worked in the industry for a decade. You won't find a more qualified and professional team of cleaners in the entire city.
Latest Techniques, Procedures, & Equipment
Another perk of hiring our services is that we use modern machinery. All the equipment and procedures are according to modern needs. Instead of using conventional methods, we prefer to use the latest solutions.
Schedule Couch Cleaning with Us!
Our company offers upholstery cleaning services to residential and commercial customers in the City of Boston, Lynn, Somerville, Newton, Brighton, Wellesley, Dedham, Westwood, Norwood, Quincy, Hingham, Cohasset, Canton, Stoughton, Foxborough, Bellingham, Franklin, MA and other nearby Boston areas.
Dust and dirt in your sofa or recliner can damage the fabric over time. Give your upholstery a new lease on life with our upholstery cleaning service. Call us at 617-532-0630 or just fill out our quick form and get a super fast estimate.